Snuggles weighed nearly DOUBLE the average weight of an adult cat
The RSPCA hopes to find a home for a portly pussycat who came into the charity's care last month.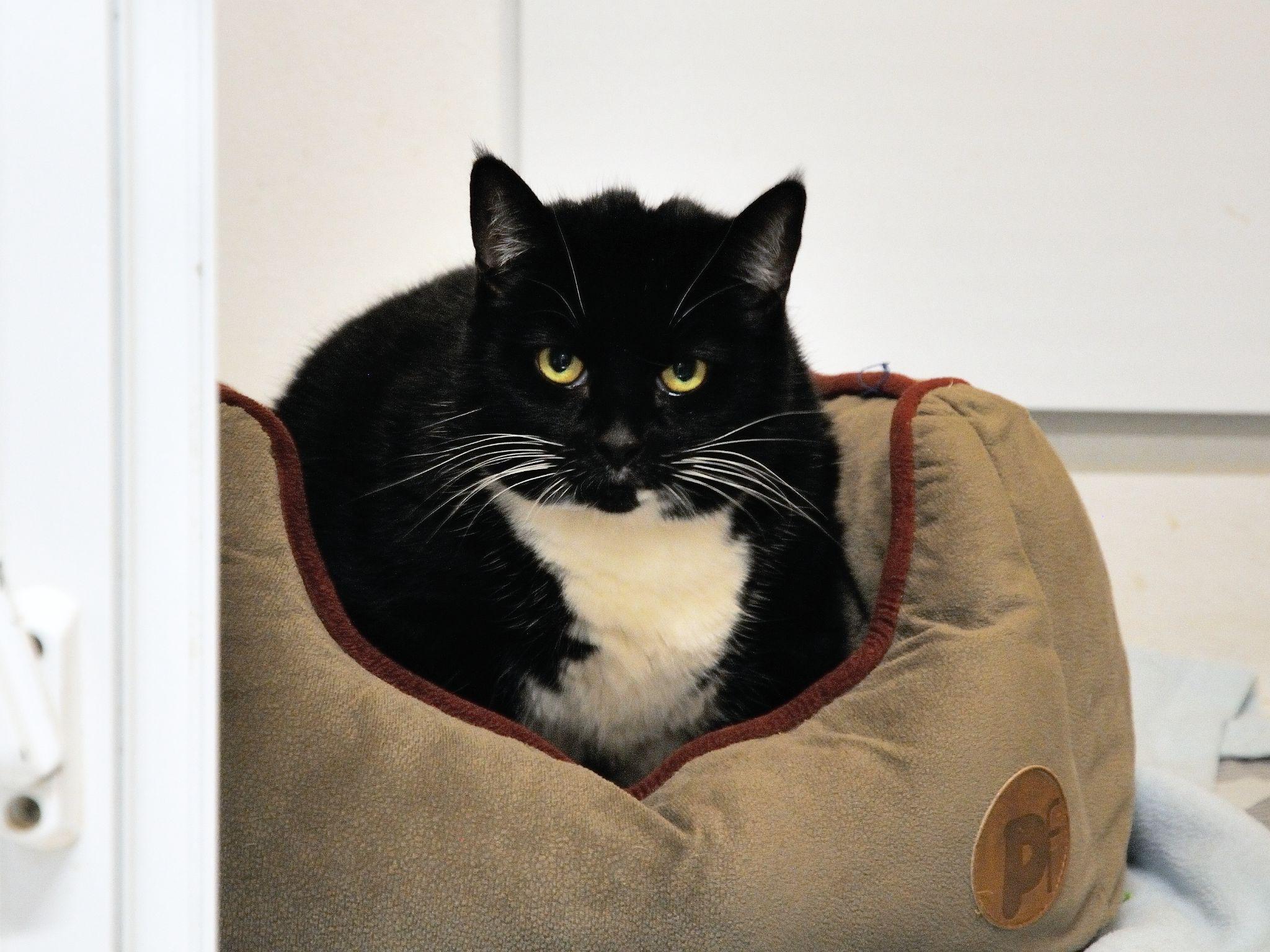 Snuggles arrived at the RSPCA Middlesex North West and South Hertfordshire branch in November weighing 7.01kg which is almost double the average weight an adult cat should be. The staff at the branch put her on a strict diet, with a daily playtime and exercise regime and she is now a much healthier 5.31kgs.
Tracy Deamer, Animal Welfare Officer at the branch, said: "Snuggles' new year resolution is to become fitter and shed the last bit of weight. She is therefore looking for a home with a garden where she can go outside and get some much-needed exercise and is looking for someone who can continue her diet.
"Snuggles was an indoor-only cat in her previous home and sadly this caused some behavioural issues with her. She is very scared of humans and does not like to be handled. We believe she may have been overeating due to a lack of stimulation inside the home. We'd love to see her rehomed to a home with a cat flap where she can run outside every day!"
This black and white beauty can be a little wary of people and a little grumpy at times so she will need an experienced and patient owner who will understand that she may take some time to settle in. She will also need lots of enrichment to keep her entertained, such as scratching posts and toys, access to a cat flap and an owner who can help her stick to her new diet until she reaches an ideal weight.
If you think you can offer Snuggles a loving home please contact the RSPCA Middlesex North West and South Hertfordshire branch on info@rspcamiddlesex.org.uk or 020 89669688.
Caroline Allen, Chief Veterinary Officer at the RSPCA, said: "Sadly, we are seeing a growing rise in overweight and obese pets with problems such as diabetes. This is mostly as a result of their lifestyle, including diet and exercise.
"According to the PDSA PAW Report 2017, current scientific literature suggests that around 40% of cats are thought to be overweight or have obesity.
"We also believe that owners may need more help recognising their pets' obesity. It is always best to ask your vet to weigh your pet if you are worried they may be overweight; but as a rough guide for dogs and cats – you should be able to see and feel the outline of their ribs without excess fat covering them. Other tips are that you should be able to see and feel their waist and it should be clearly visible when viewed from above.
"It's important to realise what your pet needs to keep them healthy, such as a balanced diet and exercise. Regular exercise is good for the mental and physical well-being of pets and their owners too, and is just one of the many positive benefits of having a pet.
"It is also important to ensure your cat eats a diet suitable for their age, lifestyle and health status and that they are fed appropriate amounts for their healthy lean weight, if in doubt ask your vet for advice.
"We all like to treat our pets but it's a good idea to count the treats as part of their daily intake and amend meal sizes accordingly.
"If you do think your pet may be overweight or suffering from diabetes, the key is not to panic, but to speak to your vet about any problems and discuss with them what a suitable weight should be."
To donate to the branch visit: https://www.justgiving.com/rspcamiddlesex
We regularly write about all things relating to cats on our Blog Katzenworld!
My partner and I are owned by five cheeky cats that get up to all kinds of mischief that of course, you'll also be able to find out more about on our Blog
If you are interested in joining us by becoming a regular contributor/guest author do drop us a message @ info@katzenworld.co.uk .