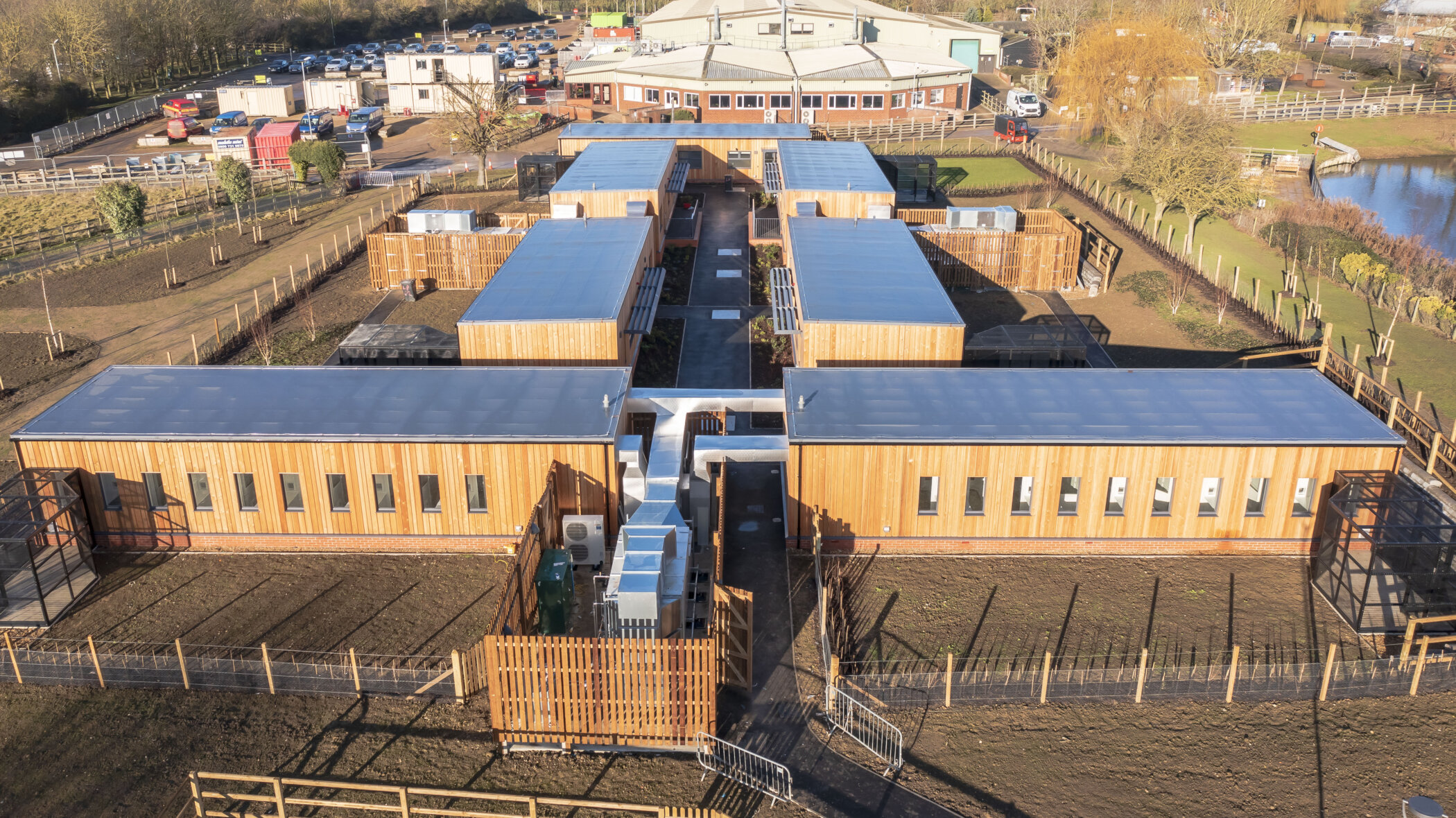 Wood Green, The Animals Charity has now revealed a significant new development at its 43-acre site in Cambridgeshire. Following years of planning and disrupted construction during a pandemic, the Snowden Cat Care Centre is now operational and enabling the charity to provide even better care to thousands of cats in need.
With 60 units, the Snowden Cat Care Centre has increased Wood Green's on-site capacity by 50%. It is constructed with seamless PVC and features solid walls, separate sleeping areas and climate control in order to give cats a quiet and comfortable stay, all year round. The large, adaptable units have sliding doors in order to create double or triple units for pairs of cats, and a number of secure areas called 'catios' allow vital outdoor access for cats to exercise and display natural behaviours like climbing, jumping and exploring.
These improved amenities elevate the quality of care that Wood Green is able to provide, tailored to each cat's medical and behavioural needs. By improving overall welfare, cats can be rehabilitated and rehomed more quickly – decreasing the average length of stay by an estimated 10%. This means the charity can be there for even more homeless cats with nowhere else to turn.
Wood Green can have up to 500 cats, dogs and small pets in its care at any one time. Some of these are from owners who can no longer care for them, and others are strays with nothing known about their history. The charity is often required to respond quickly to emergencies, with pets in critical conditions requiring life-saving treatment. Around 3,500 pets are rehabilitated and rehomed each year, more than half of which are cats, but the existing on-site cat accommodation was becoming increasingly outdated.
In order to meet the demand on Wood Green's services and cater to the changing needs of the cats coming through their doors every day, it has now been replaced. The Centre is named after Ms. Sheila Snowden, who left the charity an incredible legacy donation of almost £900,000, providing around 40% of the project's total budget of £2.4 million. The remaining funds were donated by individual supporters, as well as gifts in kind from valued partners like the pet technology company Sure Petcare.
Vanessa Cunningham, Director of Care & Veterinary Services at Wood Green, said: "Since we opened our doors as a charity 1924, two things have remained true: the UK is a nation of pet lovers, and there have always been pets in need of our help. However, we now have a much greater understanding of their needs and we must continually adapt to provide the right care, and the right services, in order to fulfil our purpose.
"A new Cat Care Centre has been a part of our plans for a number of years, and I couldn't be happier that we have been able to go ahead, despite the impact of COVID-19 on the charity and thanks to the generosity of our supporters. This project is incredibly close to my heart and I'm delighted to see the first residents settling in so well and benefitting from the space as we had envisaged they would."
Meet the Snowden Cat Care Centre's first residents
10-year-old Felix came into Wood Green's care in February after his owner very sadly passed away. Weighing in at 9.7kg, poor Felix was extremely overweight and the fur on his back was matted as he was unable to clean himself properly. The charity's dedicated team put him straight on a weight management diet and clipped his matted fur, and he also required a dental procedure to remove some rotten teeth. Despite his size, large units in the Snowden Cat Care Centre allowed Felix to move around comfortably – with plenty of space to exercise and explore. In just a few weeks, Felix was down to 9kg and he is now continuing his weight loss journey in a loving new home.
Jude and Darla, an exuberant brother and sister duo, arrived at Wood Green after the dog in their original home had killed the pet rabbit, and their owner was concerned for the five-month-old kittens' safety. A veterinary check confirmed they were in good health, and they were neutered in order to prevent unexpected litters. Adaptable spaces in the Snowden Cat Care Centre meant that Jude and Darla could stay together in two interlinking units – and their Carers said they had "the best time" playing together! The kittens had not been given outdoor access in their original home, so they also enjoyed venturing outside for the first time in one of the secure cat gardens. Jude and Darla have now been rehomed together.
Vinnie was another emergency arrival at Wood Green in February, after he suffered a serious injury to his third eyelid and his owner was unable to afford treatment. The 11-month-old was taken straight into the charity's veterinary surgery to have his eyelid repaired, where he was also neutered whilst under anaesthetic. Poor Vinnie then needed a course of pain relief and antibiotics following his surgery.
During his recovery period, it made the world of difference to have large spaces for Vinnie to easily navigate whilst wearing a buster collar. A controlled temperature and improved ventilation system in the Snowden Cat Care Centre also meant that the healing process was much more comfortable for Vinnie. He has now fully recovered and is settling into his new home.
To find out more about the Snowden Cat Care Centre, and about how Wood Green can help you with your pets, please visit woodgreen.org.uk/about-us/cat-centre/.
About Wood Green
From humble beginnings in 1924 and the subsequent headquarter move from London to Cambridgeshire, Wood Green, The Animals Charity in Godmanchester has become one of the largest pet rehoming centres in Europe for the care of dogs, cats and smalls pets. The charity takes in unwanted and lost pets, provides shelter and care, finds secure and loving homes, provides advice and guidance to pet owners and increases public awareness of responsible pet ownership. Thousands of pets are rehomed every year and up to 500 pets can be in their care at any one time. Wood Green, The Animals Charity relies on donations from the public that help support their work.
We regularly write about all things relating to cats on our Blog Katzenworld!
My partner and I are owned by five cheeky cats that get up to all kinds of mischief that of course, you'll also be able to find out more about on our Blog
If you are interested in joining us by becoming a regular contributor/guest author do drop us a message @ info@katzenworld.co.uk .