A 14-year-old cat is so happy to be doted on again that he has turned into a "velcro cat".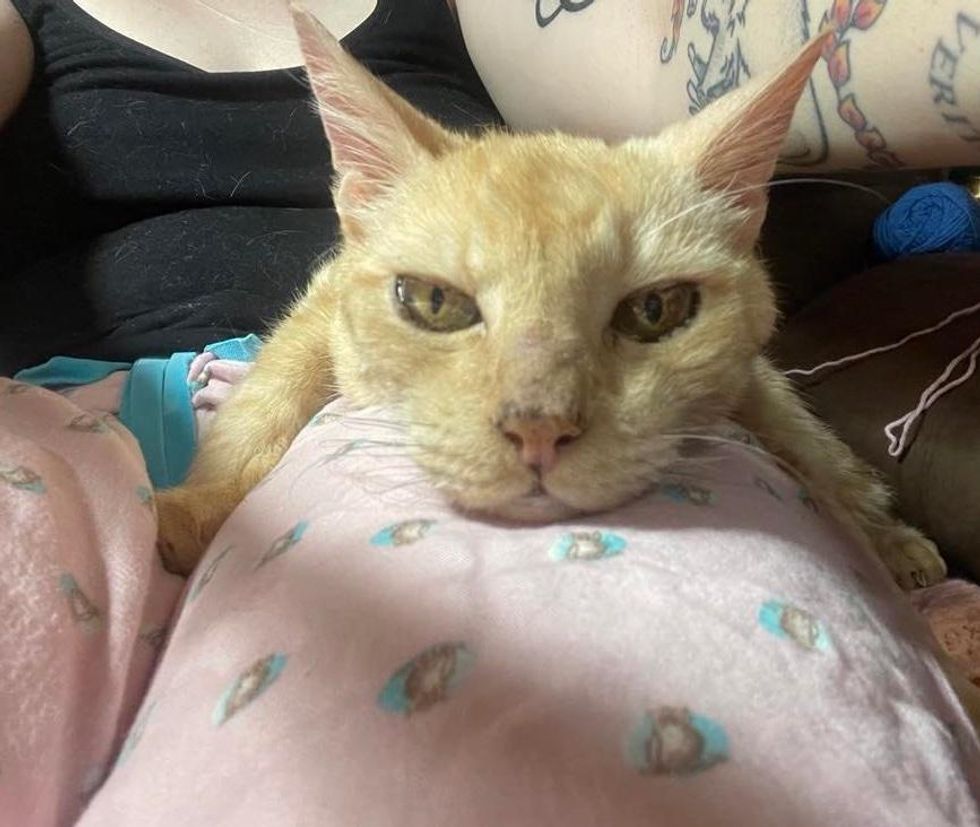 Rambo the catBest Friends Felines
About three months ago, a 14-year-old cat found himself at a shelter, lost and confused. His owner sadly passed away, and he was brought in by the landlord, needing foster care.
Whenever he spotted a visitor or staff, he perked up and hoped they would notice him. The cat was eager for attention from people and didn't want to be alone. Best Friends Felines (BFF), an animal rescue group in Brisbane, AU, was informed about the lovable tabby and immediately arranged for a foster home for him.
"We were reached out by one of our pound contacts about this handsome senior guy. He is sweet and friendly," Nikki of Best Friends Felines shared.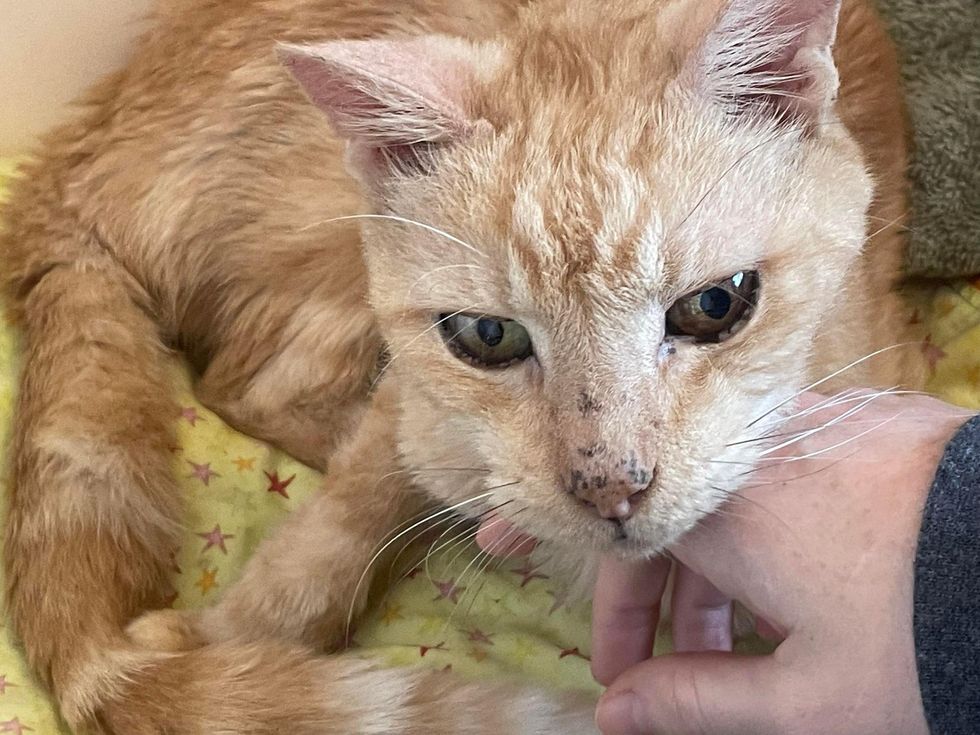 He was taken into a shelter after his owner passed awayBest Friends Felines
With the help of volunteers, the orange cat, named Rambo, was safely transported to his foster home with Kate. "While rains and floods hindered transport (at the time), Rambo finally made his way to BFF's care."
"The poor little man was basically a walking skeleton and incredibly emaciated. Tests revealed that his T4 levels, as suspected by his skeletal frame, were high," Nikki added. "We immediately started thyroid medication and got some fluids into him as well as endless food."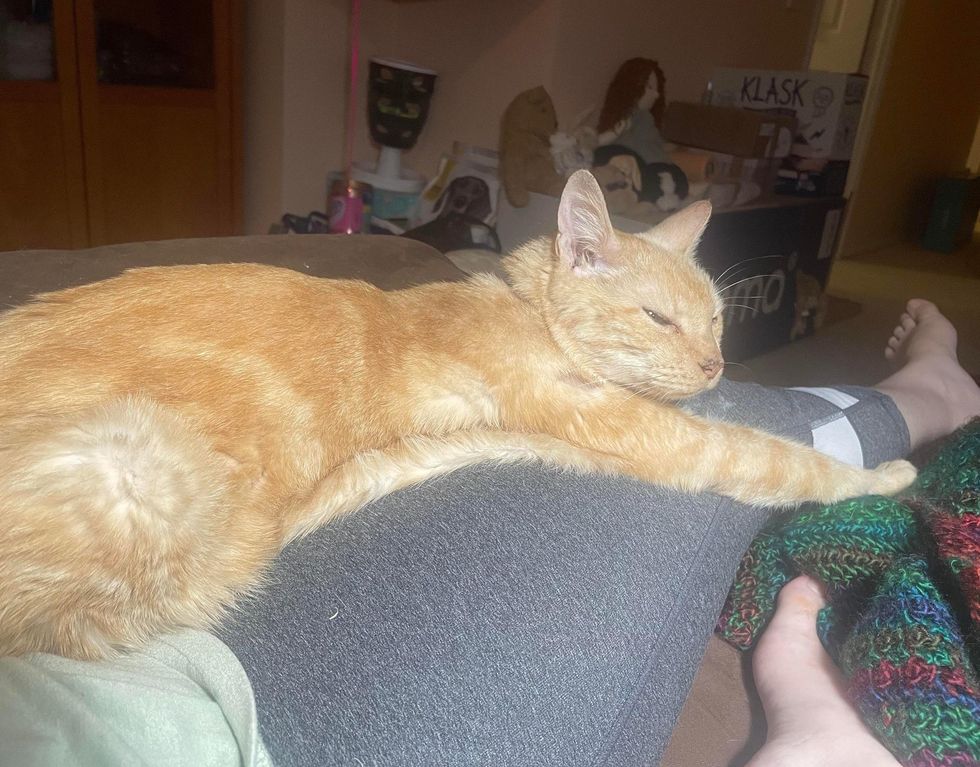 He was an instant love-bug when he arrived at his foster homeBest Friends Felines
Rambo's eyes lit up as he settled into his foster home. He quickly turned into a love-bug, and clung to his foster mom like velcro. Being inside a comfortable home in the presence of a human friend made him the happiest kitty in the world.
"He is such an affectionate and happy little man who is very generous with head bumps and nose bops, and loves nothing better than to smooch you."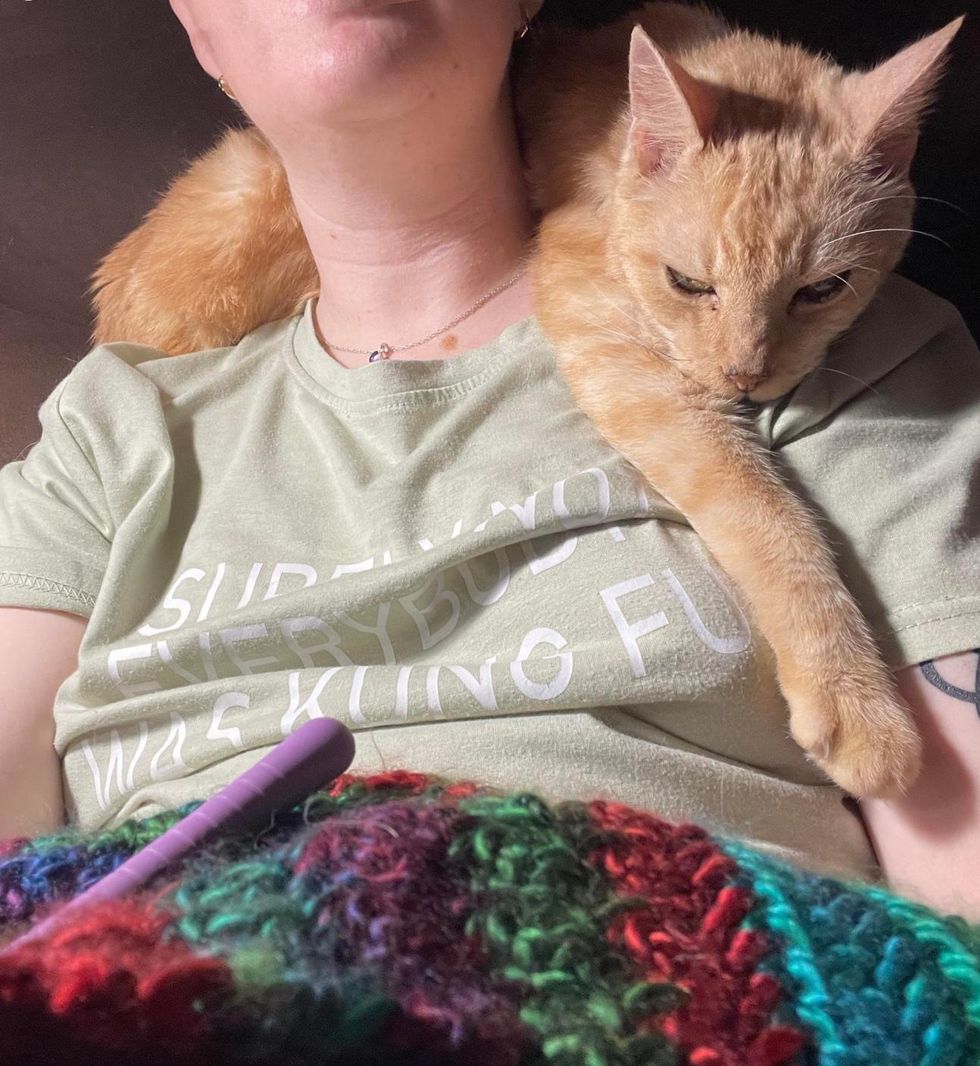 Rambo likes to drape himself on his human's shouldersBest Friends Felines
The orange gentleman with nose freckles blossomed after just a few days in foster care. He put on weight and gained strength, and his coat recovered its soft and luscious appearance.
"He has reached an accord with his (resident) dog sister, while he is still strongly disapproving of his cat one," Kate shared in an update. "He's been taking his medication like a little angel. Rambo continues to make great progress on his journey back to his best old man self."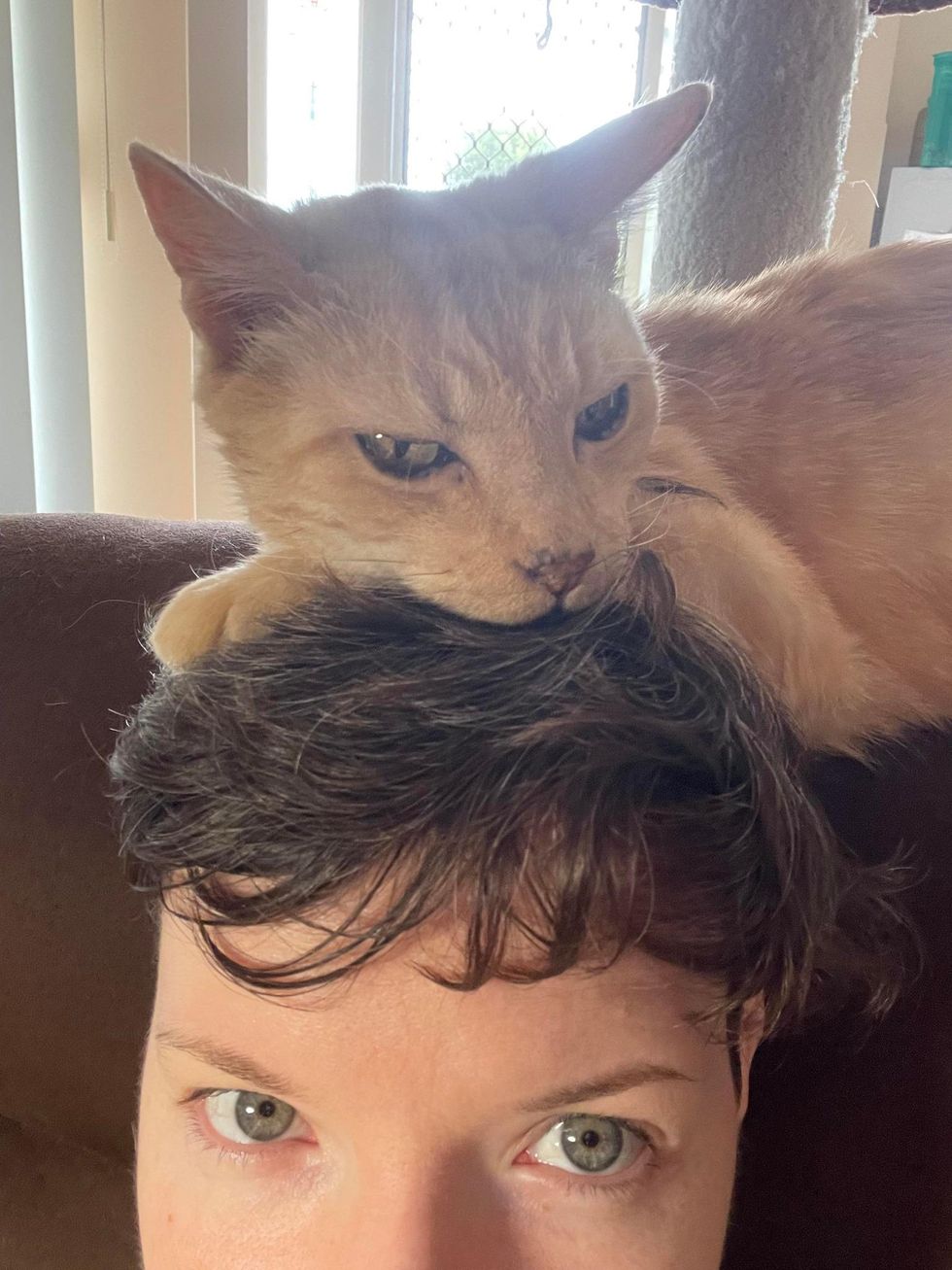 He clings to his people like velcroBest Friends Felines
"Rambo is such a snuggly, attentive guy who does an exceptional scarf impression on a regular basis. He likes to be part of the action but being an older cat, he takes his nap breaks very seriously and will shout to try to get people to sit down so he can sleep on them."
With excellent medical care, nutritious food and plenty of cuddles to go around, Rambo rediscovered his inner-kitten and started playing again, adding zoomies to his daily activities of eating, sleeping and invading his foster mom's personal space.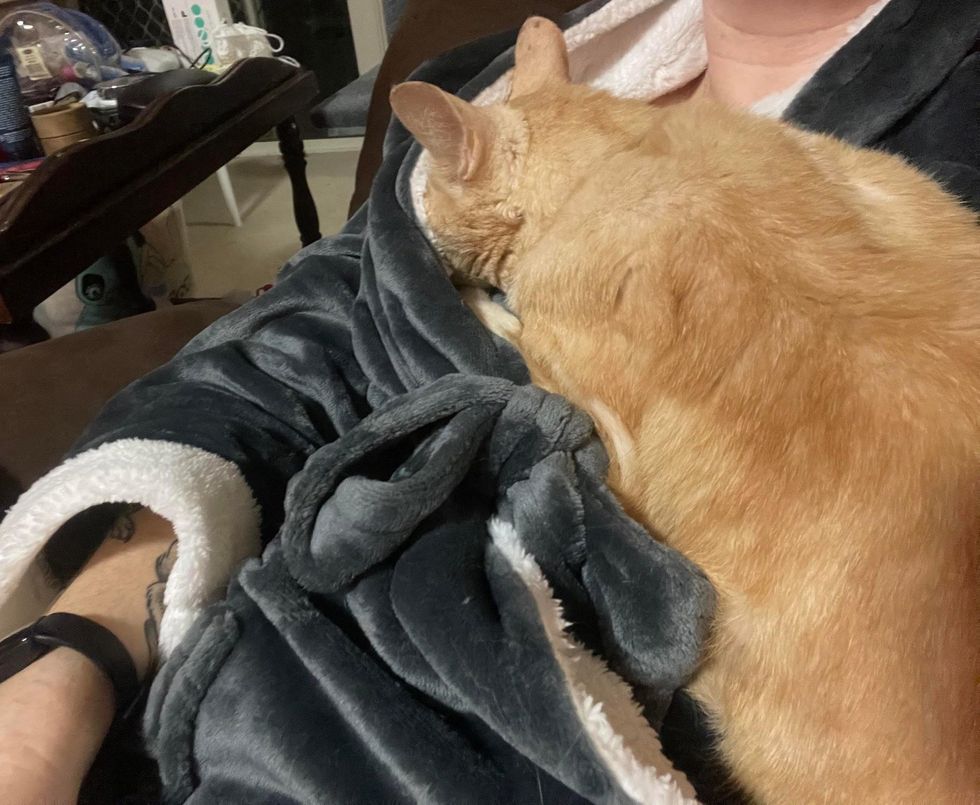 Personal space is not in Rambo's vocabularyBest Friends Felines
His favorite pastimes are draping himself on shoulders, being tucked under a blanket with his people, and wrapping his body around their leg for intense and prolonged cuddles.
Rambo embodies the definition of a people cat. He insists on being the center of attention and is at peace as long as he is doted on by his humans.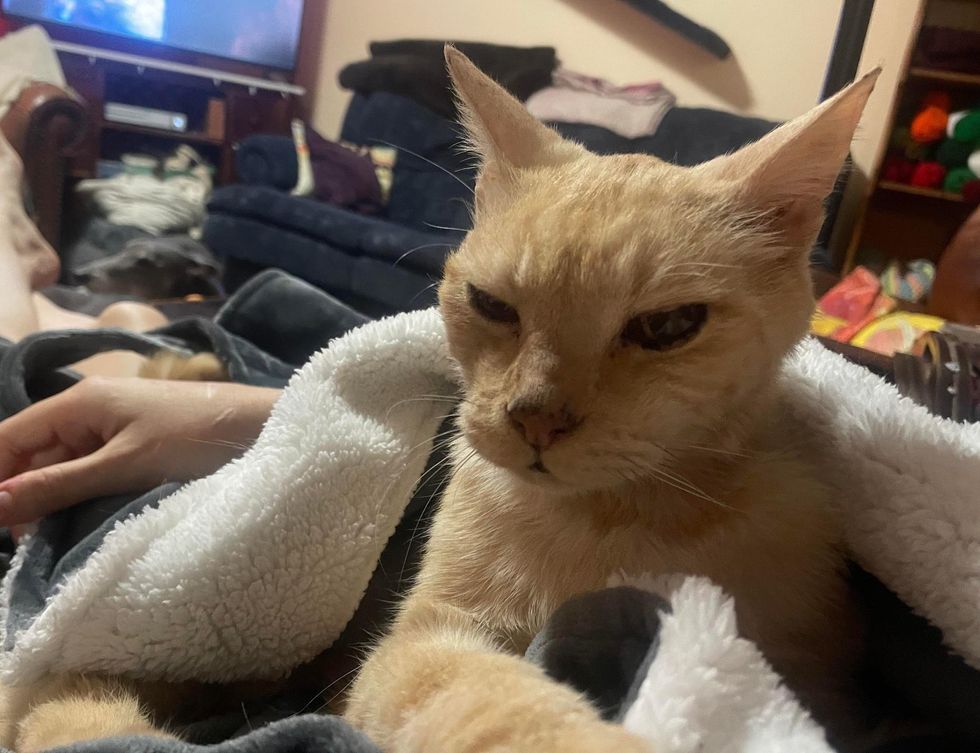 Cuddles and more cuddlesBest Friends Felines
The sweet tabby looks new and improved in every which way after three months of good care and an abundance of love.
"He is a solo diva and needs to be in a home without other felines, and he needs someone home a lot as he is such a snuggle-bug," Nikki shared. "He prefers to be draped over you in some fashion and thrives on company."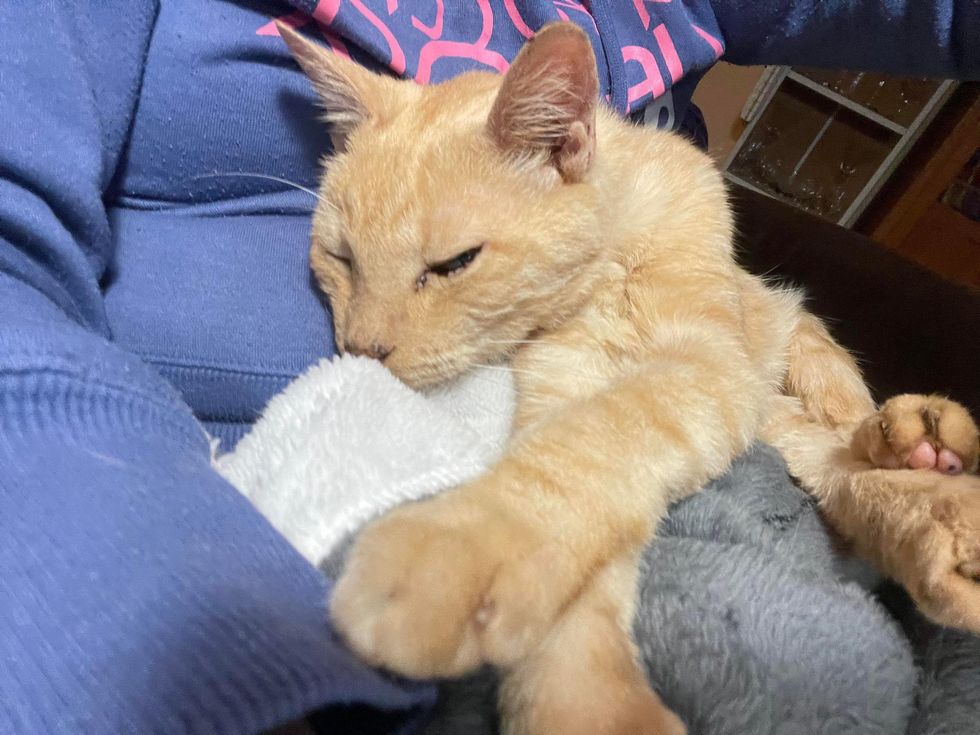 Best Friends Felines
Despite everything Rambo has gone through, he has never lacked an ounce of love towards his people—all he wants to do is have a warm lap to sleep on and a forever family to cling to.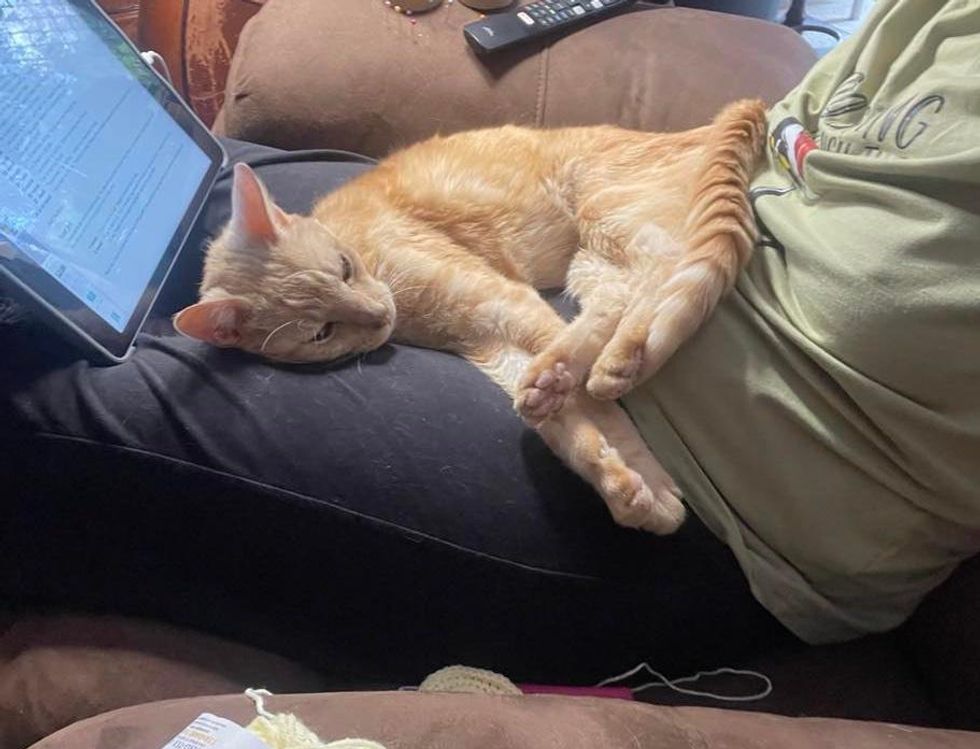 Best Friends Felines
Share this story with your friends. Follow updates on Rambo and Best Friends Felines on Facebook and Instagram @bestfriendsfelines.
Related story: Kitten Born in Backyard Hid in a Corner, Decides He Needs Cuddles One Morning and a Place of His Own