Hi everyone,
The following story was submitted by Patricia about Lana her cat:
Lana came to our family as a foster animal in September of 2020.  We never expected to keep her, but in only 24 hours, Lana made such a huge impression on us all that we knew she was a keeper and meant to be a part of our family forever.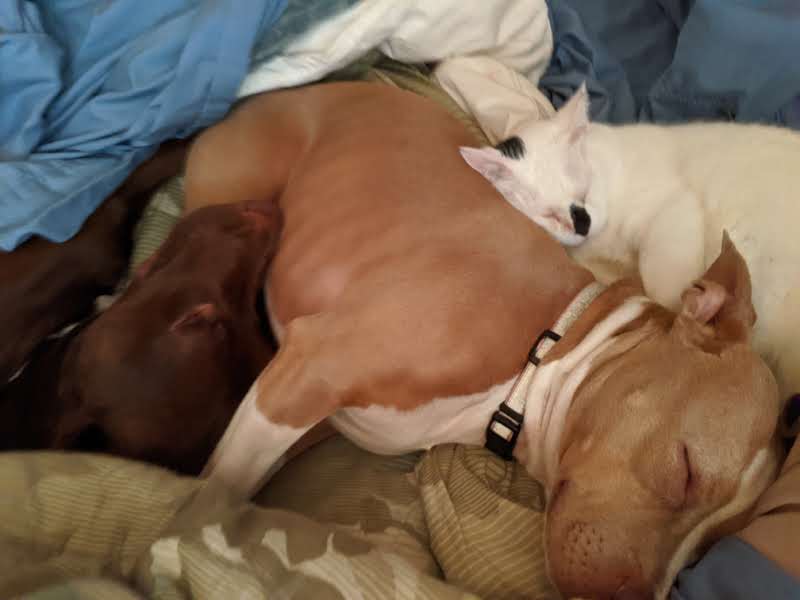 After a rough start to life as a stray cat from the south, Lana now lives a life of luxury in Wisconsin.  Lana spends her days napping on various dogs beds in the house and on the screened in porch (even though there are plenty of cat trees and cat beds), snuggling with dogs, curling up on whoever's lap she can find, and following humans around the house, constantly telling us that her next meal should be served soon. 🙂
Lana has a great appetite!  Lana also enjoys cleaning everyone in the house, including a 3 legged lab mix, a pit bull, two fellow cats, and even humans. 🙂
Lana is a very confident, happy, chatty, social and motherly little girl who is adored by all.
Have you got a story you'd like us to share? Get in touch with us via info@katzenworld.co.uk
We regularly write about all things relating to cats on our Blog Katzenworld!
My partner and I are owned by five cheeky cats that get up to all kinds of mischief that of course, you'll also be able to find out more about on our Blog
If you are interested in joining us by becoming a regular contributor/guest author do drop us a message @ info@katzenworld.co.uk .